Yesterday, Playstation revealed through their blog that Destruction AllStars has been delayed to February 2021 and will release as a PS Plus game for that month. The news was shared by Pete Smith, Director of Product Development at Playstation.
Destruction AllStars was previously set to be a launch title for the PlayStation 5, but those plans have since changed. This move isn't very surprising, as people across the internet didn't seem particularly excited for this game. I've seen countless users on various forums and Social Media platforms question whether it would be worth the full £70. In fact, I've seen it commonly stated that Destruction AllStars should release on PS Plus, as Rocket League and Fall Guys have previously, to bring in a bigger playerbase. It seems PlayStation has taken that feedback on board.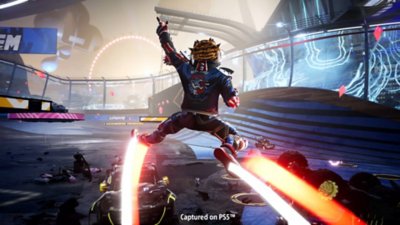 When Destruction AllStars launches in February 2021, it will stay on PS Plus for two months, so there'll be plenty of time for players to pick up the new title. This also means those that aren't planning on picking up a PlayStation 5 on launch don't need to rush out to buy one, as the game won't release straight away. Those that have pre-ordered the game, whether it's digitally or in a retail store, will have their purchase refunded.
For those that haven't heard of the game, Destruction AllStars is a destruction-derby multiplayer title which was previously planned to release alongside the PlayStation 5 on November 12th. This delay means it will now launch in February 2021. We will hear more next week, as the team plans on releasing a new trailer which will give us an exact release date. Destruction AllStars might now be a while away, but the PlayStation 5 certainly isn't! The console launches in just over two/three weeks (the latter for me here in the UK)! In the meantime, you can find more from me below and across the site:
The Survivalists Review|Playstation 5 Showcase Reactions|Crash Bandicoot 4: It's About Time Review
Stay tuned to The Games Freak for all your gaming news!