Last night, Sony held another Playstation State of Play livestream. As previously announced, it was purely focused on third-party titles coming to the Playstation ecosystem in the coming months. Let's jump in!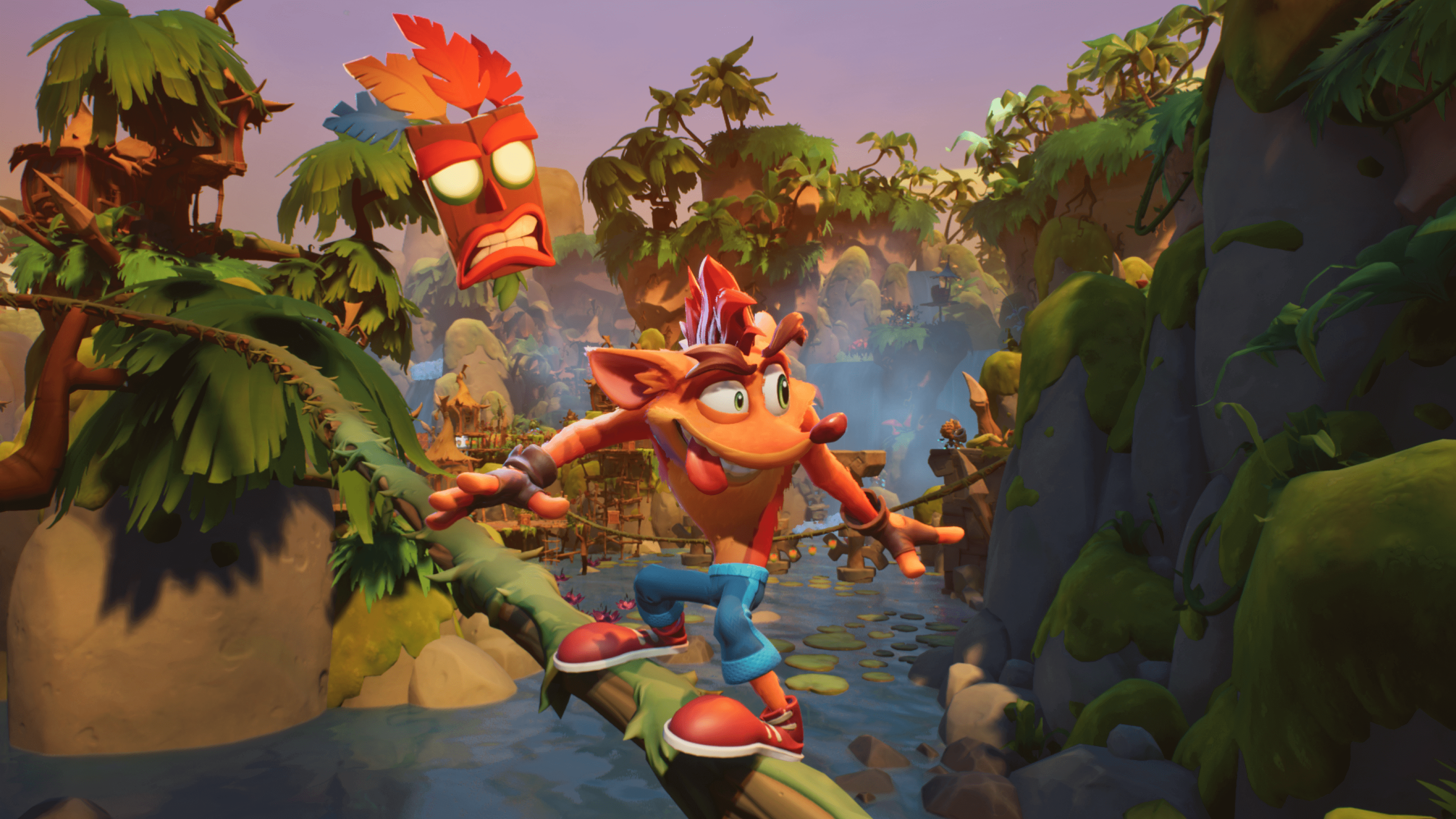 Crash Bandicoot 4: It's About Time kicked off the show with a deep dive into what we can expect from the long anticipated sequel. Developer Toys For Bob spoke about their ambition to balance introducing newcomers whilst making sure veterans of the franchise get more of what they fell in love with years ago. They emphasised the tense, precise platforming elements returning that the series is known before. There are new gameplay features too though – Crash can wall-run, rope swing, grind on rails and even zipline in the upcoming game!
Crash Bandicoot 4 will also have various skins, and all of them are earned through challenges in-game or earning gems in levels! The developer specifically highlighted that there will be no microtransactions, which is great news! These outfits are purely cosmetic, but there are ways to change the gameplay too. Throughout the game, Crash and Coco will find and use Quantum Masks which offer huge gameplay changes such as inverting gravity or slowing time.
And in case you didn't catch that, both Crash AND Coco will be playable throughout the entire game. Coco will also feature more prominently in the story too! Neo Cortex and Dingodile will also be playable at certain points in the game, offering fresh perspectives to flesh out the story even more.
To wrap things up, the developer Toys For Bob announced that the game will have a new way to play through the game once you've beat it – inverted mode. It changes the perspective, art style and sometimes even the core gameplay to offer a new feel for every level. Crash Bandicoot 4: It's About Time will launch on October 2nd 2020.
Next, we got an exciting look at Hitman 3. Hitman 3, and the previous two games, will be playable in PlayStation VR. This isn't just a tacked on feature – this is a full first-person mode which allows you to experience every location across the entire trilogy in VR. No announcement was made about this mode coming to other VR platforms on PC, but hopefully we get a confirmation that it will soon because it looks fantastic.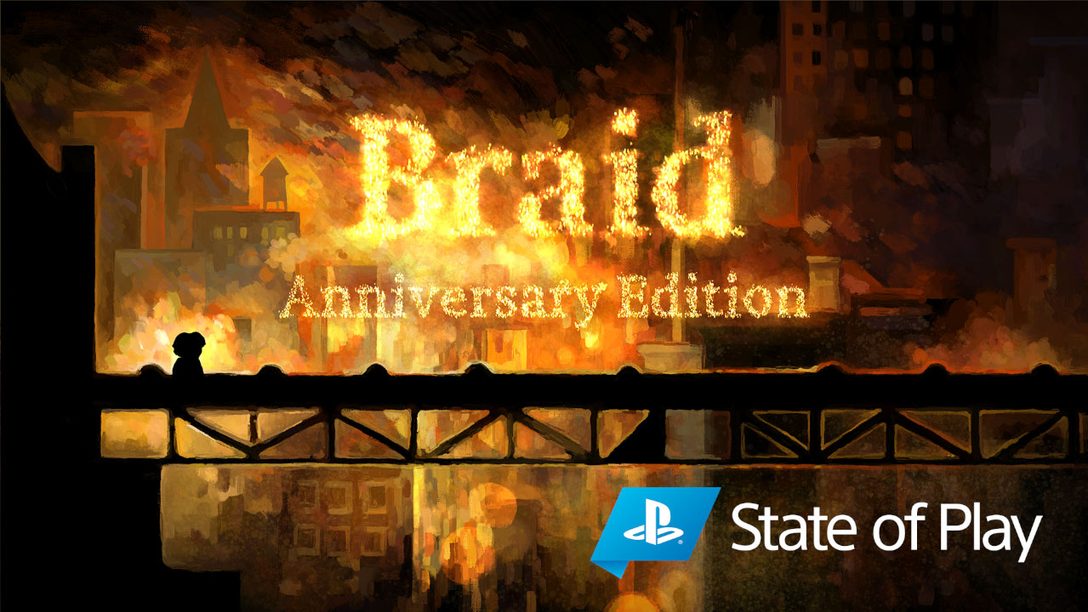 Braid: Anniversary Edition was shown next. It has been hand repainted by the original artist, making the leap from 720p to 4k. The game looks beautiful, not only thanks to this huge visual enhancement but also because of the fluid new animations for the player character. The team have also took the time to re-imagine certain sections of the game, making each location feel unique. This new version of Braid will also have commentary on various aspects of game development, so we'll get interesting insights into the development process too! Braid Anniversary Edition is coming in 2021.
The Pathless is an open world mythic adventure game. The player takes the role of The Hunter, a master of archery. The Hunter uses this prowess to shoot talismans, which fill a dash meter and allow her to bound across the landscape. The archery isn't a traditional aim and shoot system. Instead, it relies on timing, allowing the player to quickly shoot talismans and fill their dash meter, preserving the fast momentum that is core to the game. The Hunter will also have an eagle who will give her the ability to fly across sections of the forest she might otherwise be unable to traverse.
The map is filled with puzzles to complete, rewarding the player with gems to upgrade the eagle's ability to fly. That's not all though – huge, cursed spirits roam the map and must be avoided if The Hunter wants to live. These will also offer thrilling battles if the player can restore the towering obelisks that protect these beasts. Defeat the cursed spirits to bring light back to the world. The Pathless will launch later this year.
Spelunky 2 was first announced in 2017, and here we get an exciting update. The game will bring more of the unique, wild gameplay that fans fell in love with in the original. Players will be able to experience this together thanks to online multiplayer. There will be lots of new and exciting ways to interact with the caves in Spelunky 2, such as riding turkeys and finding hidden passageways. It won't be long until we see the full game as it launches on PS4 on September 15th, and PC shortly after.
We got glimpses of various other games coming to the PS4 next. First, we saw a new trailer for open-world action RPG Genshin Impact, showing off the mystical land and the adventures players can look forward to having. The art style is gorgeous, reminiscent of Breath of The Wild. The world looks rich, full of activities to dive into and exciting combat to experience. Genshin Impact will launch this Autumn worldwide on PS4.
Anno: Mutationem offers a unique blend of 3D exploration and exciting 2D action. The game swaps between these two perspectives at various points. You will explore the various huge cities in depth in 3D, but in combat scenarios the game will become a 2D action platformer, with challenging battles and intense boss fights. The game is set in a cyberpunk world, and the visuals are a testament to the genre, offering pixel-graphics and 2D sprites in huge modern cities and environments. Anno Mutationem launches in December on PS4 and PS5.
Bugsnax. None of know what to expect with this one. According to developer Young Horses, 'Bugsnax takes you on a whimsical adventure to Snaktooth Island, home of the legendary half-bug half-snack creatures, Bugsnax.' The game seems adorable and light-hearted, but ask anyone and they'll tell you that it feels… off. The trailer showed the bug-catching gameplay that's been teased so far, giving us a look at the various Bugsnax and the tools we'll be using to catch them. The game is seems like a first-person lighthearted adventure but the trailer ends with a glimpse at something dark and sinister as a huge winged beast flies across the dark island. I'm still not sure what Bugsnax is but we'll find out soon. Bugsnax launches this holiday on PS4, PS5 and PC.
Playstation VR players will soon get to experience Star Wars: Vader Immortal. A new trailer showed off various sections of the story and the lightsaber dojo, the challenge mode included with the game. Star Wars: Vader Immortal received very positive reviews when it released on PC VR in 3 parts during 2019. PSVR players will finally get their hands on it when it launches on August 25th.
Control launched to critical acclaim when it launched last year. We got a new look at the second expansion, titled AWE. The most exciting aspect here is the tease that we will get to see an old hero return in this expansion – Alan Wake. Players have speculated for a long time that the two games are set within the same universe, and now we have confirmation as we finally see a short glimpse of Alan Wake in this new trailer. In this expansion, Jesse will venture to the Investigations Sector of the Bureau where the organisation examines Altered World Events. We won't have to wait long to see how this links to Alan Wake as AWE launches on August 27th.
Hood: Outlaws and Legends is a game in which rival gangs will compete to complete a heist. Described as a PvPvE game (player vs player vs environment), players will team up to fight both AI guards and opposing player teams in daring heists. It is coming to PC, PlayStation 5, PlayStation 4, Xbox One, and Xbox Series X in 2021.
Temtem is a massively multiplayer creature collection game inspired by Pokemon. It launched early this year on PC to a lot of positive reviews. In Temtem, you explore the archipelago and battle your friends with your Temtem team in an adorable online world. Now it's confirmed to be launching on PS5, Xbox Series X and Nintendo Switch in 2021.
Finally, we were shown extensive gameplay of Godfall in a combat overview. Godfall is described as an intense looter-slasher, enjoyable alone or in 3-player online coop. It is set in a fantasy universe split into different elemental realms – Earth, Water, Air and Fire. You are a knight who can equip Valour Plates – legendary armour sets that transfer you into an unstoppable melee master. The developer describes how the combat is a mix between your loot stats and player skill, allowing you to be excited by both finding new gear and mastering the melee combat system. It is focused on offense rather than defense, and the game rewards you for being aggressive.
This trailer gave an in-depth look at the various weapons in the game. There are five weapon classes – longswords, dual blades, polearms, two handed warhammers and two handed greatswords. The developer showed off two of the five weapon classes – the Dual Blades and the Longswords – giving us a look at the signature moves and combos you can perform with each. You can see this in-depth look in the video below.
What did you think to this State of Play? Let me know in the comments below or over on my social medias. For all the latest Playstation news, make sure you stay right here at The Games Freak!