Fall Guys released on Tuesday, but all you might have heard about was the server issues that came with the massively hyped launch. Well, now that's all over and Fall Guys is cute, crazy and a ton of fun. Here's my Fall Guys Ultimate Knockout review.
Wonderfully Wacky
Fall Guys: Ultimate Knockout never takes itself too seriously. It's a unique, refreshingly silly take on the Battle Royale genre which has become dominated by games that I often find more stressful than fun. I'm not the best at Warzone – usually I'm just there to spend time with my mates back home, but I know I'm bringing the team down because I'm not a reliable shot. In Fall Guys you don't have to worry about any of that. There's no anxiously fixating on the horizon for the glint of an enemies sniper. It's as simple as run, jump and try not to fall. Whether you win or lose, it's just pure fun and that's something the genre has surprisingly lacked.
Vibrant, Loveable Theme
The game isn't just fun to play. It's a delight to watch too. The colours are vibrant and easy on the eye. Watching 60 Fall Guys stumble through a race is a delight, and the noises they make as they jump over obstacles are adorable. What's not to love?
Simple and Accessible
Running, jumping… and mostly a lot of falling. As I said before, that's about as far as the gameplay stretches. You can grab other players if you want to cause some mayhem, and you can dive to the finish line if you need that little extra boost to qualify for the next round. Anyone who picks up the controller will understand it quickly, and they'll definitely have fun. They might not win first time – I haven't yet – but the skill ceiling isn't too high so it's nice to feel like I actually stand a chance.
Plenty of Variety
There are plenty of levels here to keep things fresh, most of them well-designed to be fun yet challenging. I already have my favourites: Door Dash has you racing to the finish line, but the path is filled with doors – some real, some fake. Which one you run into is purely luck, but it's never too hard to catch up if you end up behind everyone else. Jump Club is another instant classic which has you jumping over a spinning beam for as long as you can. This one is ripped straight out of the classic Total Wipeout and it's just as much fun to play as it was to watch! With the developer Mediatonic already promising more wacky levels to come, it looks like the game has an exciting future ahead!
Slime Climb – Notoriously Hard
Slime Climb is Fall Guys hardest challenge by far. Tasked with running up a winding course whilst slime rises over it sounds easy enough. Play it and you'll realise that's not the case. Between the horde of players bouncing you around the thin walkways and the obstacles pushing you back down, it's just too hard to make it to the top. Slime Climb can easily bring a contest of 40 or more players down to 4 within a minute. It's the only game mode I've found to be frustrating, but then maybe that's the point. Fall Guys was inspired by the obstacle course game shows that so many of us grew up with – Total Wipeout or Ninja Warrior for example. These both have challenges renowned for their difficulty – Total Wipeout had it's Big Red Balls and those were great fun to watch. However, it's a different story in Fall Guys and Slime Climb gets a groan rather than a grin.
Couch Co-Op Sorely Missing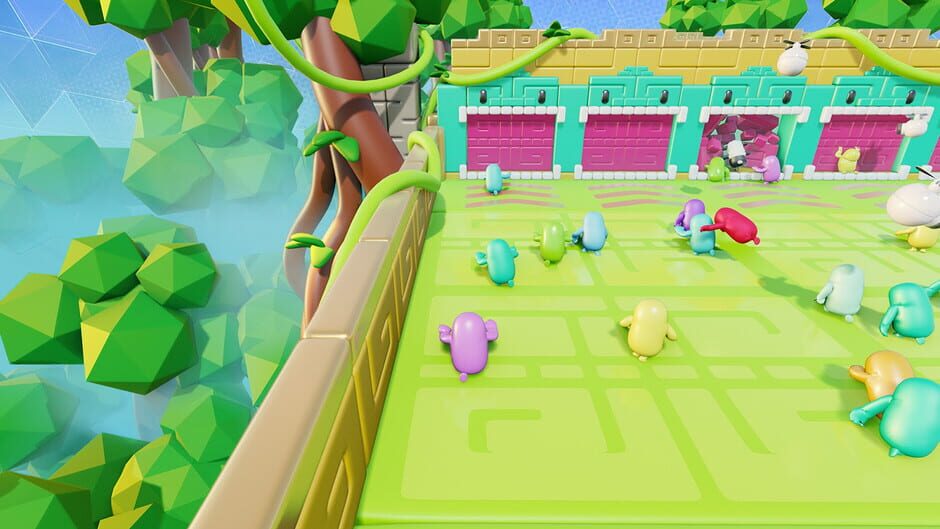 Fall Guys is one of those games that people can't help but find fun. It's crazy yet charming, and it's easy to access with simple controls. That makes it massively disappointing when I can't just plug in another controller so my girlfriend can join in too. It'd definitely be a lot of fun to play together, yet split screen is sorely missing from the game. The developer has mentioned it's something they'd like to add in the future, so hopefully this comes sooner rather than later!
Lacks The Option To Watch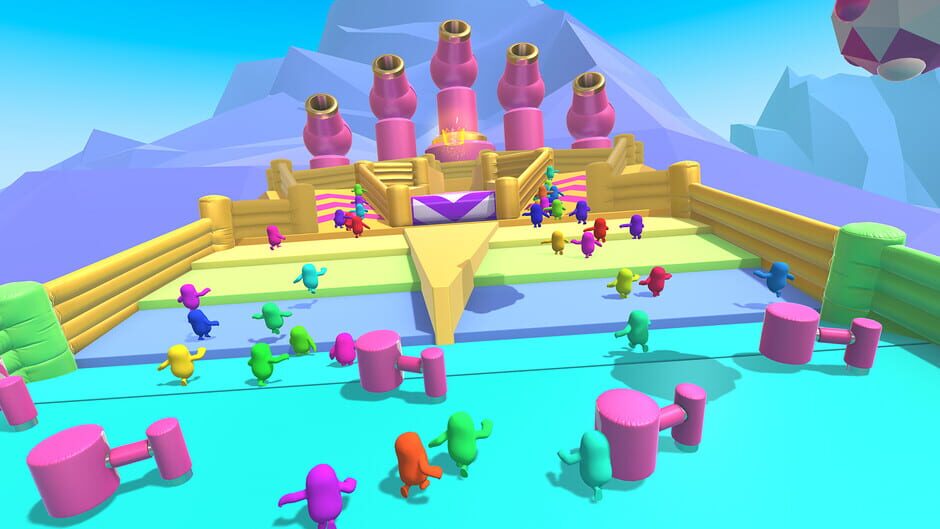 Fall Guys literally has you compete in what it calls 'episodes', yet there's no way to watch in game other than spectating once you've lost. I'm not looking for a platform like Twitch in the game. Rather, it'd be a great to have a handful of the best 'episodes' (matches) of the day shown in an episodic TV show format. Sweeping camera angles of the races, highlight reels of the funniest eliminations, montages of people falling, with an exciting finale to wrap up each episode. Something like this would be fun to watch whilst you grab a snack between matches or whilst waiting for a friend to come online, and it'd be a natural fit for the game.
Verdict
Ultimately, Fall Guys: Ultimate Knockout is so much fun, and it's something I think we all need to play. It's engaging yet simple, and gives us a refreshingly relaxed take on the Battle Royale genre. There's a wide variety of great levels which will have you smiling, although there are the odd ones that are more frustrating than fun. Missing features like couch co-op stop the game from reaching it's full potential, but Fall Guys is still unquestionably enjoyable. With new levels and features already promised, it's future is certainly looking bright. Fall Guys is a good foundation and it can only go up from here.
Fall Guys Ultimate Knockout is out now on Steam and Playstation 4 for £15.99/$19.99. If you have PS Plus it's free for this month so what are you waiting for? Go jump in to the wacky fun and let me know what you think in the comments below or over on my social medias. For all the latest Xbox news, go check out me and the team at Generation Xbox. For everything else, make sure to stick with The Games Freak!